1) Kenai Fjords National Park is located in the
Kenai Peninsula in the south central part of Alaska. This park holds history from our past president Jimmy Carter. As president, he passed the Antiquities Act in 1978 to protect areas of Alaska. The park has many different distinctive features, including the Harding Icefield that is actually one of the largest ice fields in the United States. The park also includes a total of 38 glaciers and is home to a variety of animals, such as black bears, whales, seals and moose.

It is the only National Park in Alaska that did not originally allow use by Native Americans, but native village corporations continue to have interests

with the park. I think this would be a very interesting topic to research further due to its location and what it inhibits. Not many people think about Alaska for anything, and this place holds presidential history and beautiful wildlife that other National Parks do not have.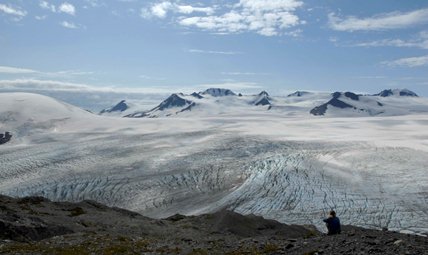 Harding Icefield Trail in Kenai Fjords National Park

2) The World War II Memorial here in Marion, Ohio. The memorial is located in the Marion Cemetery and is a tribute to local veterans. It was dedicated in 2001 and is the largest memorial of its kind outside of Washington D.C., which is very neat for Marion, Ohio to have. It contains names of both local men and women inscribed on a black granite structure, as well as an eagle cascade as the entrance. This would be a great place to research because its right here in town and holds so much significance.
3) National Underground Railroad Freedom Center located in Cincinnati, Ohio. It is a museum based on the Underground Railroad and opened in 2004. The Center also pays tribute to all efforts to "abolish human
enslavement
and secure
freedom
for all people." The center has a principal artifact of a slave pen built in 1830 that is the only known survival rural slave jail. Researching this would allow for a better understanding of the time of the Underground Railroad, and the railroad itself. It would also be neat to see how the railroad was constructed throughout Ohio instead of just Cincinnati.